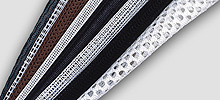 Properties of individual products
are given by the material composition, used structure, and their final finish.
Materials used: synthetic materials from continuous filaments – PES – high UV radiation resistance
Basis weight: from 25 - 250 g/m2
Final finishes: dying to the required colour, hardening, fireproof finish, antibacterial finish, ...
Tests: selected samples are test for weft/warp breaking and tearing strength, fire resistance, ...
Technical mesh is sold by meter, in width of 90 - 300 cm, or as cut strips of 10 - 90 cm in width
Technical mesh applications
Health industry
Agriculture
Building industry
Industrial manufacturing
Apparel
Automotive industry
The company Sindat spol. s r.o. (http://www.sindat.cz/) is the exclusive distributor.
View samples: