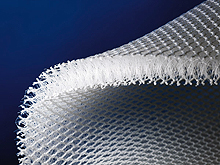 Properties of a 3D knitted fabric
Higher permeability - circulation of air between the knitted fabric surfaces
Low weight to volume ratio
Does not absorb moisture (easy moisture transport)
Perfect flexibility = high level of reversible deformation
Easy workability
Anti-allergic and not harmful to health
Does not promote prevalence of mites and moulds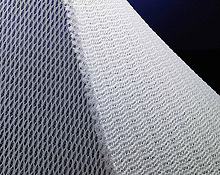 Technical specification - 3D
3D knitted fabrics are made of 100% PES.
Knit rigidity may be affected by structure, density, and used monofilament
Adjustable distance – from 3 to 23 mm
It is possible to change structure type, thereby creating more open or enclosed structure
Lower distances (3 - 6 mm) may be cut up to strips of 6 to 50 cm or supplied by meter in width of 200 to 235 cm
Product may also be cut up to shapes of different dimensions – e.g. 90 x 200 cm. The cutting surfaces are cleaned by sealing.
Colour range – made of grey warp; possibility to use black warp for selected designs.
View samples: